One of our recent personal projects called for a job board solution. There are quite a few non-wordpress open-source projects available, each with their advantages and disadvantages. In the end we decided to look for a WordPress solution, though, mainly because we wanted to be able to pick and chose from the huge amount of available plugins to extend our job board.
A quick look around the net brought up a good few options:
We actually went so far and bought a copy of JobPress (why re-invent the wheel?), it being a theme and thus giving us more flexibility, just to realize that this wasn't exactly what we wanted or needed (bummer!). For one, it hadn't been updated in quite a while. It seemed to be in a pre-WP 2.6 state. Just upgrading the theme to be able to utilize the power of 2.8 would have taken a full day.
We would have had to keep upgrading the theme ourselves as well. It doesn't look like the author is interested in keeping JobPress up-to-date. It's not what you'd expect from a product you paid money for. The code wasn't written that efficiently and some features we wanted, like PayPal integration weren't fully implemented. Also, JobPress is not GPL. In fact, it seems it doesn't have any license attached. The author only told us that it was not GPL, but not, what it actually is.
In the end it boiled down to two choices. First, use JobPress, but heavily modify it (for all its disadvantages, it still does, what it's meant to do). We wouldn't be able to share the code, it not being GPL, but our job board would be up and running fairly soon, say a week. The other option would be to write our very own job board theme from scratch. It would take a lot longer, but we'd be able to do with it what we wanted, so we went with that choice and JobBoardr was born.
Basically, JobBoardr is a parent-theme, meaning that it can be modified easily through the use of child-themes. You can put all your changes into a separate theme that still uses the templates and functions of its parent-theme. This way none of your modifications get lost during an upgrade of the parent-theme.
There's a bunch of other features as well, like localization, front-end accounts for both employers and employees, sending job applications as pdf to employers, premium job ads, 7 advanced widgets, an API (so other people can feature job ads on their site), automatic pdf invoice generation for companies posting a job, a complete backend for admins, through which many options can be changed and a few more…
Future features will include a lot of AJAX goodies, an affiliate programme and CV generation for employees, just to name a few. Plus, the job board engine will be GPL compatible. That's the good news. The bad news is (for you anyways), that we will still need to charge for it. The price will be somewhere between €70 and €100. Our main reason for doing this is that job boards are making money for the people running it.
Here's a little screenshot from what we have so far (things might change slightly):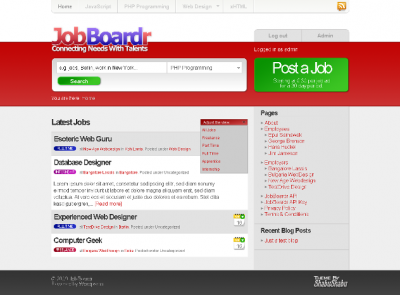 At the moment we still consider JobBoardr unstable. The current version is 0.7 alpha. Once it reaches beta stage, we will upload a public hosted version and invite everybody to help test it. As a little incentive, we will give beta testers a discount. The bigger the help, the better the discount.
If you're interested in helping with the beta testing or just want to be notified when JobBoardr reaches beta stage, then go to JobBoardr and submit your email address.