We hereby proudly announce that one of ShabuShabu´s WP-Plugins found its way into the print media. The current "PC Pr@xis-Sonderheft Nr. 3 – OpenSource – Magazin für freie Software" is totally dedicated to WordPress, being one of the most popular OpenSource Content Management Systems (CMS). On 98 pages the reader finds among other things an introduction to WordPress, its history, hints for professionals, hosting solutions as well as a short overview of the vast amount of existing plugins increasing the functionality of this fantastic CMS.
On page 51 the author is describing NextGEN Gallery, a plugin written by Alex Rabe and NextGEN FlashViewer, a plugin for NextGEN Gallery, written by Boris Glumpler, co-founder of ShabuShabu-Webdesign. The reader gets to know that NextGEN FlashViewer is "very helpful" for "advanced webmasters for implementing interesting flash effects like picture sliders or a rotating carousel". He is also getting informed, that NextGEN Flashviewer can be downloaded at WordPress.org while a corresponding installation guide can be found at travel-junkie.com.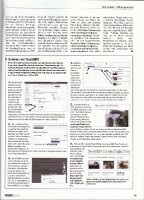 As you probably know, we have forwarded the above URL to ShabuShabu-Webdesign, leaving travel-junkie.com to its original subject: travelling the world on low budget.
The PC Pr@xis article can be found here as a pdf-file (a profound knowledge of German language would be quite useful).
There are new versions of NextGEN Gallery, NextGEN FlashViewer and NextGEN Imageflow out now. If you haven´t upgraded to them yet, now would be a perfect time of doing so.
Cheers!